Following the collapse of the Soviet Union, WomenAid has been providing assistance to some of the poorest new republics during the period of economic and social transition.
KYRGYZSTAN
In Kyrgyzstan health and social services have been seriously affected by the economic crisis which has led to dramatic deterioration in the nutritional status of vulnerable groups.
European Community Humanitarian Office funding of 1.6 million ECU has enabled WomenAid to provide 2500 tonnes of emergency food assistance to 86,000 poor pregnant women. 'Baby kits' containing essential items for the care if a new born baby were given to 20,000 of the poorest mothers in the country.
Maternity hospitals struggling to provide basic services have also received desperately needed vital supplies.
" If I have any regret, it is that I did not emphasise sufficiently the difficulty which parents face. I saw my task to be the advocate of the child. But I believe now there is another important task - to be the advocate of the mother."
Bruno Bettleheim,
after a lifetime working for disadvantaged children.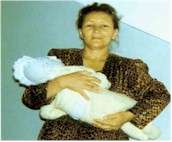 " I am very thankful and glad that we have such an organisation as WomenAid International. I will never forget your help. I wish health to all of you."
Kyrgyzstan mother Natalya Ulanova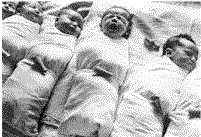 "We would like to thank you for your invaluable contribution to the women of the Republic of Kyrgyzstan at the time of hardships."
Chief Doctor, G Sharshekunova, parents and staff, Children's Polyclinic, No.4, Bishkek