The United States set up Operation Provide Promise and, in cooperation with UNHCR and the World Food Programme (WFP), began airdropping relief supplies to parts of Bosnia -Herzegovina on 28 February 1993. By late November, more than 1,482 airdrop flights had been flown by the participating nations, delivering over 10,100 tons of food and 167 tons of medical supplies to places like Srebrenica, Zepa, Cerska, Konjevic, Goradze, Tuzla, Mostar, Maglaj, and Tesanj.
AIR LAND - AIR DROP
| | |
| --- | --- |
| | U.S., French and German cargo aircraft taxi for takeoff at Rhein-Main Air Base in Germany for an Operation Provide Promise airdrop mission over central Bosnia -Herzegovina. |
WomenAid International became one of the main partners of Operation Provide Promise, supplying high protein biscuits ( HPB's) donated to WomenAid by the UK Ministry of Agriculture, Food, and Fisheries. The Overseas Development Administration funded WomenAid to undertake the transportation and logistics for distribution of over 10,000 tons of HPB's. WomenAid delivered approximately 3000 tons to the Rhein-Mann Air Base, Germany for the central Bosnia airdrop and the Ancona Air Base, Italy for the Sarajevo airlift.
The regional co-ordinator for the United Nations World Food Programme, wrote to WomenAid International to say this support 'undoubtedly saved lives.'
Supplies used in the airdrops were donated by the European Community, Germany, Japan, Austria, Holland, Belgium, Turkey, Denmark, Britain, the United States and the World Health Organisation.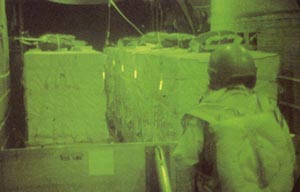 Once over the drop zone, it takes only a few seconds to roll the bundles out the back of the C-130's cargo bay. 26 foot parachutes were attached to the tops of the bundles of food and medical supplies.
The purpose of the parachutes was not so much to slow the fall of the bundles – they hit the ground at 60 mph – but to stabilize them for accuracy.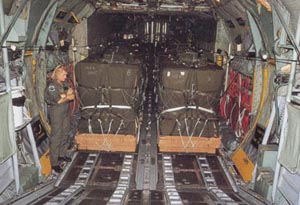 C-130 drops aid over Tesanj. The aid bundles sit on thick layers of corrugated cardboard to protect the contents on impact.
On a typical night airdrop missions were flown by six U.S. C-130 Hercules and by one French and one German Transall. Each mission took about six hours.