TALIBAN ATTACKS PROCESSION OF WOMEN
Police in Peshawar, Pakistan resorted to tear-gas shelling and baton charge to disperse Afghan Taliban who attacked a procession of Revolutionary Association of the Women of Afghanistan, (RAWA). Women and girl students bravely marched through Peshawar to demonstrate that Afghan women are prepared to fight for their rights. Several women were injured and rushed to hospital.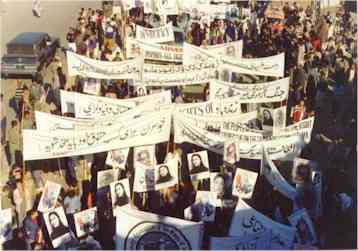 After the first attack was successfully repelled by the Pakistani police a crowd of more than 300 stick-wielding Taliban rushed to the scene. They were too late as the women had ended their demonstration and had dispersed peacefully. The angry Taliban blocked the main road and searched passenger buses hoping to find the Afghan women who had taken part in the procession. Their aggressive action was condemned by Pakistanis, many of whom were disturbed at this Taliban attack upon defenceless women. WomenAid joins RAWA in thanking the Peshawar police force for its speedy action.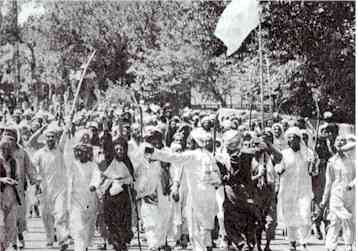 NEW TALIBAN RULING
The United Nations called for an emergency meeting with Afghanistan's Taliban religious army after its latest decision to close more than 100 private schools, many of them educating girls. 'The closures will have a devastating impact on the welfare of many of the neediest people - particularly women and children,' the UN said in a statement released on 17 June. Scores of small, home-based vocational training programmes are also to be shut. The latest Taliban action stopping women running home schools for girls denied access to education and the closure of the few small scale projects helping women unable to leave their homes underlines the desperate need for those of us who are free to raise our voices on behalf of 'imprisoned' Afghan women.

DESPERATE WOMEN COMMIT SUICIDE
A recent UN Report highlighted a dramatic increase in the number of women committing suicide who can no longer bear the country's all-pervasive Islamic code. Aid workers in Taliban-controlled Afghanistan also confirm that women are killing themselves. The most common method is by swallowing caustic soda - an agonising and lingering death ensues.

TALIBAN DETERMINED TO MOVE AID WORKERS
The Taliban demanded all aid agencies based in Kabul should be housed in a derelict college building. 22 of the 30 plus agencies had threatened to leave Kabul and stated such threats were 'unjustified' and ran counter to humanitarian action.
Source: 03.07.98 Reuters
AID AGENCIES EXPELLED FROM KABUL
The Taliban closed the offices of over 35 non-governmental agencies working in Afghanistan for refusing to relocate into a derelict college building. The building needed an estimated $1 million to rehabilitate and to repair in order to turn it into a working hostel. Nabi Majrouh, head of the operative department of the Taliban 's intelligence network stated 'They should move into the Polytechnic or leave Afghanistan. The majority of the 100 foreign aid workers left Kabul but the relocation order did not apply to the UN or to the International Committee of the Red Cross.
Source: 03.07.98 Reuters
AFGHANISTAN -THE MOST DIFFICULT PLACE
TO WORK ON EARTH?
The current combination of a hostile security environment, extreme chronic poverty, recurrent natural disasters, an on-going conflict and a discriminatory human rights regime had made Afghanistan the 'most difficult place to work on earth", according to Sergio Vieira de Mello, Under-Secretary-General for Humanitarian Affairs and Emergency Relief Co-ordinator. Two Afghan nationals working for UN agencies were found dead at the weekend. The UN insisted upon a full investigation.
Following the expulsion of the Aid agencies for refusing to move into a dilapidated building the European Commission suspended its funding of all assistance in the Kabul area. That decision had very serious repercussions for 1 million inhabitants of Kabul. Approximately 75 per cent of the humanitarian assistance was delivered through non-governmental organisations.
PAKISTAN
TALIBAN DEATH THREATS
Amnesty International have expressed concern for the safety of Afghan women's human rights campaigner Fatana Gailani and her husband Ishaq, after a number of death threats have been made against them. Individuals claiming to represent the Taliban have circulated warnings that the couple are among a dozen citizens living as refugees in Pakistan who have been targeted for assassination for their 'anti-Taliban' activities. The couple are under Pakistani police protection, but believe that more needs to be done to endure their safety, and that of other prominent Afghan's and women's rights defenders. In November 1998, at least 4 Afghani political figures were assassinated in Pakistan. Fatana Gailani heads the Afghan Women's Council in Peshawar, Pakistan, which provides educational and health facilities to Afghan women and children refugees.
GENDER CO-ORDINATING UNIT
FOR AFGHANISTAN
The UN has set up a Gender Co-ordinating Unit for Afghanistan, indicating that it is ready to confront Taliban rulers who oppose all outside support for women. The unit will work under the UN Co-ordinators office for Afghanistan to formulate gender policy jointly with other agencies. The UN has also appointed a human rights adviser for Afghanistan and a gender advisor is to be appointed in February. But observers have commented that any effort to help Afghan women will inevitably lead to a confrontation between the UN and the Taliban - who now control 90% of the country. The Taliban have implemented their own version of Islamic laws - preventing women from having education or working - all women must be accompanied by a close male relative when they go out. The policies have had a devastating impact on a country with hundreds of thousands of war widows who are the only potential earners in the family. The restriction on male doctors treating women - means that women are often unable to receive medical assistance.
Source: UPI via Abigail's Rebels.
TALIBAN SEND TROOPS TO CHECHNYA
KABUL, Jan 31: Taliban troops have gone to Russia's breakaway republic of Chechnya to provide reinforcements for beleaguered Chechen guerillas, a senior Taliban commander said on Monday. Leading the Taliban troops in battle in Chechnya is Maulana Dadallah, a one-legged warrior, who has a reputation in Afghanistan as strong fighter, said the Taliban commander.
The troops left Afghanistan 20 days ago, added the commander, who has been a reliable source of information about the Taliban. There have been no reports in Russia of Taliban troops arriving in Chechnya.
The Taliban's Foreign Minister Wakil Ahmed Muttawakil said on Monday that it was the Muslim world's shame that it did not support Chechnya. "They are my brothers. The only solution is to help the Chechens," Muttawakil said. However, he did not confirm that the Taliban had sent fighters to the ravaged Russian republic. "They are not terrorists; they are fighting for their freedom," said Muttawakil.
Source: Dawn, Feb. 1, 2000 -AP
WOMENAID

INTERNATIONAL

womenaid@womenaid.org