The collapse of communism and the rise of ethnic strife plunged the southern fringes of the former Soviet Union into turmoil, particularly in the Caucasus where some 1.5 million people had been forced from their homes in Georgia, Armenia and Azerbaijan. Although there was sporadic media coverage of the fighting, the world was largely unaware of the human suffering that followed for hundreds of thousands of refugees and internally displaced people in all three republics.
But the refugees and displaced were not the only ones who are hurting. The general populations of all three countries are also bearing a tremendous burden. The infrastructure was collapsing, and in many areas of the Caucasus fuel and power supplies are sporadic or non-existent. Trade and industry had ground to a halt, leaving hundreds of thousands of families without jobs or income. Inflation skyrocketed and there were shortages of just about everything. People were hungry, and the lines for government-subsidised bread grew longer by the day. In Armenia, a half-kilo of butter was the equivalent of a month's wage; a kilo of meat, two months' pay.
Following government level invitations, WomenAid International established offices in both Armenia and Georgia in early 1993, marking the organisation's first-ever assistance programmes for refugees and displaced people in the former Soviet Union.
---
GEORGIA
At least 350,000 people were displaced by ethnic conflict on two fronts in Georgia, a country of 5.5 million people that was once one of the most prosperous of all former Soviet republics. The first conflict began in November 1989 between the government and separatists in the South Ossetia region of northern Georgia. The second - and largest - conflict erupted in August 1992 between the government and separatists in the Abkhazia region of Northwest Georgia.
The displacements occurred in several succession waves. Up to 350,000 of Abkhazia's estimated population of 540,000 fled the region between August 1992 and October 1993. Most of them, about 270,000 people, went to other areas of Georgia, while the remainder fled to the Russian Federation, Armenia, Greece and other countries. The majority of those fleeing were Georgians, who comprised 47 per cent of the population of Abkhazia before the fighting - the largest single ethnic group, Abkhaz constituted only about 18 per cent of the pre-war population, but today control Abkhazia. Other sizeable ethnic groups included Armenians (18 per cent) and Russians (about 13 per cent).
In South Ossetia, about 16,000 people fled the ethnic fighting to other parts of Georgia, while another 10,000 went to the neighbouring North Ossetia region of Russia. In addition, at least 20,000 people have been displaced within South Ossetia itself. The fighting also affected some 100,000 Ossetians living in Georgia proper. South Ossetian authorities estimate that as many as 60,000 Ossets fled Georgia, most of them to Russia.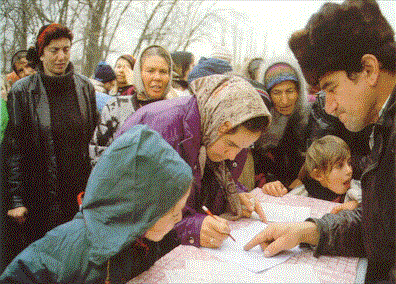 Refugees receiving desperately needed aid
Hundreds of tons of clothing, shoes, blankets, kitchen sets, soap , detergent, food and heating stoves were sent to the displaced population. Valeri Vashakidze, head of the Georgia State Committee for Refugees and Accommodation, estimated that at least 60 per cent of all aid to refugees and the displaced in Georgia came from international sources. Of the more than 250,000 displaced people in Georgia, approximately 70 per cent were living with host families, many of whom found it increasingly difficult to support them. The rest were housed in schools, hotels, sanatoriums, hospitals and other public buildings.
The effect of this influx on local populations, already reeling under severe economic pressures, was dramatic. The population of the central town of Senaki, for example, rose from 20,000 to 40,000 following the influx of displaced people, while the regional center of Zugdidi swelled from 80,000 to 154,000 people. The state social security network, which formerly provided assistance to some 1.5 million people, virtually collapsed. "When we talk about assistance we don't mean only for the displaced people", said Dr. Nino Uznadze, head of Georgia's International Humanitarian Aid Commission. "Host families and many in the general population also need help."
UNHCR, the Russian Federation, Georgia and Abkhaz authorities signed a Quadripartite Agreement on 4 April 1994 paving the way for the return of refugees and displaced people to their homes in Abkhazia. The parties agreed that the return should begin in the Gali district of Abkhazia, where the level of damage was much less and the security situation better than in most other parts of the war-ravaged region. An estimated 80,000 people - most of them Georgians -
had fled the Gali district for other parts of Georgia. The return plan assumed that some 40,000 of them would return to the Gali district. However progress has been minimal due to a number of unresolved political issues between the Abkhaz and Georgians. Recent fighting in the Gali region has led to most returnees fleeing the region yet again.
Land mines have been scattered undiscriminating by the warring sides, particularly along the Inguri River in the Gali district. These weapons, many of which are hidden in tea plantations and farm fields, pose a major threat to returnees as well as to those who remain in the region.
At the height of the war in Georgia, WomenAid was able to contribute 200 tonnes of food to "Operation Provide Hope", the 1993 American airlift of emergency aid for refugees in the Republic of Georgia. WomenAid International's programmes in Georgia distributed approximately two thousand tons of humanitarian supplies to internally displaced people (IDP's) and pre-school children in kindergartens throughout the country. Street children were also assisted.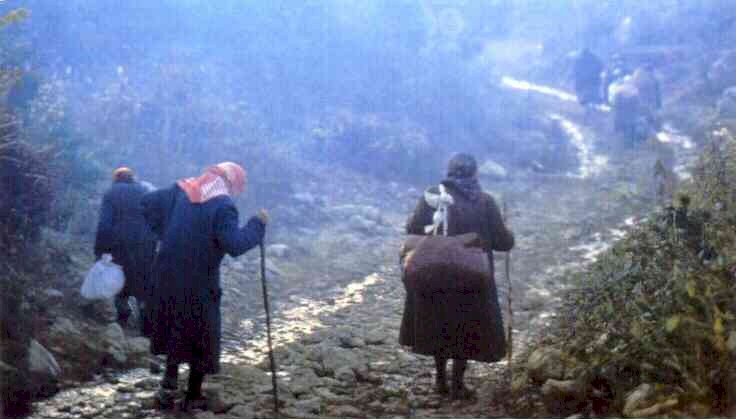 Refugee women and children fleeing from Abkhazia had to travel
in bitter winter weather over the 2,780 metres high Chuberi Pass
Working once again in partnership with the UN World Food Programme, vulnerable people, living in the highest villages in Europe, in the remote mountains of Svaneti and Kodory Valley, Apkhazeti, received emergency food aid delivered by WomenAid International.
---
ARMENIA
The war between Armenia and Azerbaijan over the disputed enclave of Nagorno-Karabakh left thousands dead, tens of thousands wounded and drove more than one million people from their homes. In addition, the economies of both countries were in ruins and hundreds of thousands of people were without jobs or incomes. As 1994 drew to a close, a fragile cease-fire remained in place in what had become the longest-running conflict on the territory of the Soviet Union. However there was still no immediate prospect that the hundreds of thousands of people displaced by the fighting would be able to go home.
In addition to many years of war, Armenia was staggering under the effects of a de facto blockade by its neighbours that at times blocked nearly all trade routes into the country, leaving it desperately short of food, fuel, seeds, fertiliser and other essentials. With the collapse of the former Soviet Union, government and regional administrative networks disintegrated. What was left of the economy was a mixture of socialist, market and barter systems, under laid with what locals call a strong "mafia" influence. More than 70 percent of the country's former industries had shut down, and those that remained open were operating at only 10 to 20 percent of capacity. The Armenian currency, the dram, was valued at 14.5 per U.S. dollar when it was first introduced on 22 November 1993. By June 1994, it had depreciated to 400 per dollar. During the same period, prices increased 23-fold.
The Armenian government estimated that 94 percent of the population of 3.5 million people were living below the World Bank poverty line of $1 per person per day. The government was still trying to cope with the aftermath of the 1988 Armenian earthquake that devastated much of the country, killed 25,000 people and left 500,000 people homeless. An additional problem was a refugee population of more than 300,000 people who fled the fighting Nagorno-Karabakh and other areas in Azerbaijan .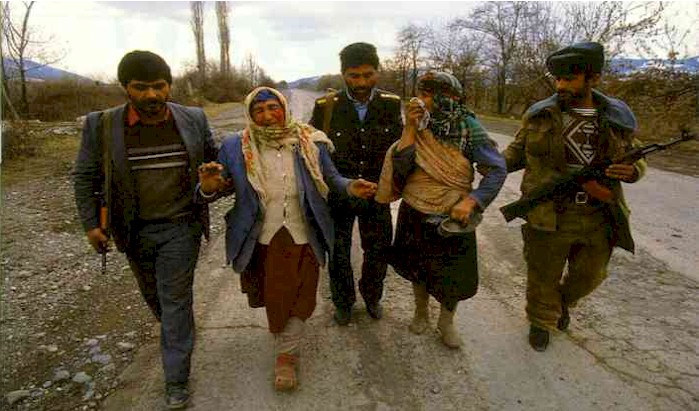 Armenian refugees from Azerbaijan arriving at a border post
after fleeing fighting between Azerbaijani and Armenian forces
The general population as well as the refugees, found life extremely difficult, particularly through the bitterly cold winters. When people are sleeping in a room that's minus 10 degrees centigrade, on the ninth floor with no elevator, no water, no electricity 24 hours a day and little food or fuel, it takes a huge psychological toll and as each winter came, the ability of people to cope became less and less.
In 1994 WomenAid began operations in Armenia following a request from the Government. Funded by ECHO and ODA, the first project provided 1600 tonnes of supplementary food to 388,000 school children suffering from inadequate diet.
A further 500 tonnes of food and hygienic items were distributed to all hospital patients. As the sole implementing partner of the UN World Food Programme WomenAid also distributed almost 8,000 tonnes of food to 140,000 refugees and 100,000 vulnerable people throughout the country. Production of 'Narine', a medical food for sick babies and infants, was revived by WomenAid becoming a hugely popular programme with parents and medical staff everywhere.
WomenAid International's programmes in Armenia distributed over ten thousand tons of humanitarian supplies to people in dire need.
An economic crisis, due to the collapse of the USSR, a devastating earthquake in 1988 and a long war with Azerbaijan means virtually no money was available to provide supplies or undertake repairs in schools, hospitals or institutions. No glass for windows, no repairs for leaking roofs or water pipes, often minimal water and electricity supplies had created appalling conditions. A major repair programme, funded by ECHO, targeted 33 of the key national hospitals as well as 22 severely damaged schools. WomenAid trained the workers, repaired roofs, glazed windows, manufactured and fitted guttering and down pipes. In an environment of neglect and decay such a visible investment in the country's future also provided an enormous boost of morale to staff, patients, parents and children.
The Republic of Armenia Ministry of Health expresses its gratitude to WomenAid International for carrying out the Hospitals Repair Programme during these difficult times in Armenia. I know that this programme is the only one of its kind in Armenia on such a scale being implemented by humanitarian organisations. I should like to mark the short time limits of the programme within which the workers managed to do the repair-reconstruction works on a highly professional level.
Deputy Minister of Health, G Shmavonian
WomenAid also worked in partnership with the UN High Commissioner for Refugees (UNHCR) installing drinking water pipes, irrigation networks and building water reservoirs in refugee occupied villages bordering Azerbaijan.