The collapse of communism and the rise of ethnic strife plunged the southern fringes of the former Soviet Union into turmoil, particularly in the Caucasus where some 1.5 million people had been forced from their homes in Georgia, Armenia and Azerbaijan.
Although there was sporadic media coverage of the fighting, the world was largely unaware of the human suffering that followed for hundreds of thousands of refugees and internally displaced people in all three republics. WomenAid International was invited to provide assistance in the region.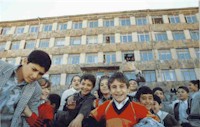 "The Administration of Yerevan school number 48, Mushegh Ishkha, expresses its deepest gratitude to WomenAid International. Thanks to your activities Armenian children will feel more comfortable this winter. Armenian people will never forget those who have done such an important job"
'Ts. K. Ghazarian, School Director
Chief Doctor K.V. Sekoyan
ARMENIA
WomenAid International, as an implementing partner of the European Community Humanitarian Office (ECHO), provided large scale humanitarian assistance to hundreds of thousands of people in need.
Over 2000 tonnes of supplementary food and hygienic items were distributed to 125,000 long stay hospital patients and to 388,000 school children suffering from an inadequate diet.
WomenAid, as one of the key operational partners of the UN World Food Programme in the region distributed almost 8,000 tonnes of food to 140,000 refugees and 100,000 IDPs, internally displaced people throughout the country.
Due to the severe economic crisis following the collapse of the USSR and war with Azerbaijan, the Armenian government was unable to repair hospitals, schools and institutions.
WomenAid International, funded by ECHO, trained over 500 workers and implemented major repairs in 33 key national hospitals and 22 schools. The project was implemented in four months.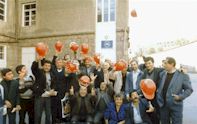 "Administration of the Clinical Hospital No.8 expresses its deepest gratitude to WomenAid International for carrying out the repair works in our institution. At present, when the State has no means to help us, your activities are becoming more valuable."
Chief Doctor, K V Sekoyan.
"The Republic of Armenia, Ministry of Health, expresses its gratitude to WomenAid International for carrying out the Hospitals Repair Programme during these difficult times in Armenia. I know this programme is the only one of its kind in Armenia on such a scale being implemented by humanitarian organisations. I should like to remark the short time scale of the programme within which the workers managed to do the repair construction works at a highly professional level."
Deputy Minister Health, G Shmavonian.