CHALLENGE AND CHANGE
Founded over ten years ago as a humanitarian aid and development agency, WomenAid's mission is to provide relief and assistance to women and children suffering distress caused by war, disasters or poverty, to
empower women through education, training, provision of credit and to campaign against violations of women's human rights.
Millions of women throughout the world are marginalised, overlooked and locked in an unequal struggle for survival. Living in abject poverty, working long hours for little or no money, they are trapped in a life of suffering, hunger, malnutrition and disease.
According to the United Nations:
one fifth of the global population, 1 billion women, are the poorest people on earth.


two-thirds of the world's 960 million illiterates are female.


Women are half the world's people who do two-thirds of the world's work. They earn a tenth of the world's income and own a hundredth of the world's property.
The reality for women, as we approach the third millennium, is a litany of gender discrimination and abuse. Reducing the poverty and powerlessness of millions of women throughout the world is not just a women's issue but is central to sustainable economic and social development of the global community. It is a complex global humanitarian challenge.
The existence of WomenAid International is a
response to that challenge.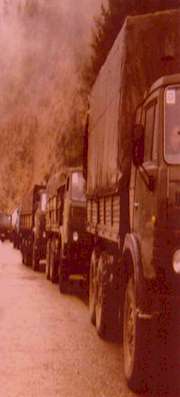 A WomenAid International/UN World Food Programme convoy Georgia, CIS.
"We face an enormous challenge which we cannot tackle alone. Only with voluntary contributions from governments and the dedicated commitment from organisations such as WomenAid, can refugees look forward to a better future. Refugees are the responsibility of all of us."
Sadako Ogata, United Nations High Commissioner for Refugees