May the Forest Be with You:
GEDI Moves Toward Launch To Space Station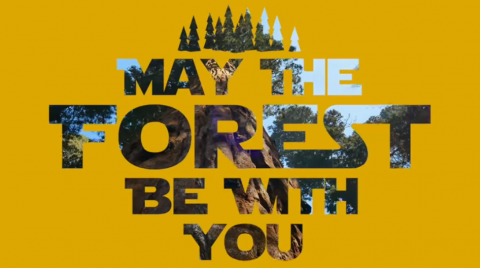 A first-of-its-kind laser instrument designed to map the world's forests in 3-D is moving toward an earlier launch to the International Space Station than previously expected. The Global Ecosystem Dynamics Investigation – or GEDI, pronounced like "Jedi," of Star Wars fame – instrument is undergoing final integration and testing this spring and summer at NASA's Goddard Space Flight Center in Greenbelt, Maryland. The instrument is expected to launch aboard SpaceX's 16th commercial resupply services mission, targeted for late 2018. GEDI is being led by the University of Maryland, College Park; the instrument is being built at NASA Goddard. Retrieved from NASA.gov . See the full article here.
GMS: May the Forest Be with You: GEDI Moves Toward Launch To ...
https://svs.gsfc.nasa.gov/12939
4 May 2018 -NASA's Goddard Space Flight Center.
Source: thegef.org, 2018-06-28
"Transformational change" will be needed if humanity is to avoid environmental "catastrophe", President David Granger of Guyana today told the closing session of the Global Environment Facility's (GEF) Assembly in Da Nang, Viet Nam. But he added that the meeting had convinced him that a "new day is dawning for the global environment". The GEF's Sixth Assembly was attended by 1,200 people, including ministers and other representatives from all the GEF's 183 member countries.
President Granger said that the meeting had recognised "the necessity and urgency of 'delivering transformational change' to confront the challenges to the Earth's environment," adding that its "conviction is that incremental change, while necessary, will not be sufficient to avert environmental catastrophe."
The panel agreed that the issues needed to be translated into language that both the public and policymakers understood in order to engage them. Gail Rigobert, Minister of the Environment of St Lucia, called for the use of "language that is palatable and resonates with people".Naoko Ishii, the GEF's CEO and Chairperson, said that the two-day meeting had been "full of discussion about how the GEF can best accelerate change", adding: "One clear message was that we must de-silo ourselves. We need to build broad coalitions of diverse stakeholders who share the same goal and who work together to get things done."
He concluded "This Assembly's momentum must not be slowed. The challenge of 'delivering transformational change' at all levels and in all zones must be embraced in the days, months and years ahead. There is no alternative earth. Eternity, no less, is what is at stake."
Read more at: www.thegef.org/news/transformational-change-needed-avoid-environmental-catastrophe

World Environment Day - 5 June 2018
United Nations World Environment Day, celebrated on June 5 every year, is the UN's most important day for encouraging worldwide awareness and action for the protection of our environment and has become one of the most important events on the global environment calendar with activities taking place in over 100 countries.
World Environment Day is the "people's day" for doing something to take care of the Earth. That "something" can be focused locally, nationally or globally; it can be a solo action or involve a crowd. Everyone is free to choose. Millions of people have taken part in thousands of registered activities worldwide.
Each World Environment Day is organized around a theme that focuses attention on a particularly pressing environmental concern. The theme for 2018 is
Beating Plastic Pollution
If you can't reuse it, refuse it!
It is a Call to Action for all of us to work together to combat one of the greatest environmental challenges of our time. Every World Environment Day has a different global host country, where the official celebrations take place. The focus on the host country helps highlight the environmental challenges it faces, and supports the effort to address them. This year's host is India.
http://worldenvironmentday.global/en

FORTHCOMING EVENT
International Coastal CleanUp Day - 15th September
https://oceanconservancy.org/trash-free-seas/international-coastal-cleanup/volunteer
WOMENAID ENVIRONMENTAL ACTION INCLUDES
WomenAid International (WAI) has a long history of environmental action and awareness campaigning - its 'Mothers of the Earth' environmental awareness campaign promoting the environmental work of women led to WomenAid International/Green Belt being awarded recognition in the 1987 UNEP Global 500 Awards. (http://www.global500.org/index.php/thelaureates/online-directory/item/715-greenbelt-movement-womenaid-international)
"It is so important to have groups like yours helping raise awareness of the need for integration of trees in the environment and of women's current and potential role in resource management."
C.H. Murray, Assistant Director-General, Forestry Department, UN Food & Agricultural Organization
WAI sponsored the environmental activities in the Caucasus of its regional partner organisation, WomenAid International Caucasus - WAI-C.
2000-2005: Caucasus Zone Green Campaign and promotion of the UN Environmental Programme (UNEP)
To introduce greater environmental awareness, engage civil society and 'seed' voluntary community action in Georgia, Armenia and Azerbaijan, in 2001 WAI-C created the highly successful, 5-year 'Caucasus Zone Green' - an annual month-long multimedia campaign held in June. By establishing an inter-regional Environment and Health Network Platform of government departments, UN agencies, INGOs and non-governmental organisations, together with multimedia partners, over 450 engaged parties promoted environmental issues and organised hundreds of media supported events at all levels, regional, national and inter-regional. In 2004 this high profile promotional and educational initiative was noted and promoted by the Aarhus Convention.
Partners: WAI, UNEP, WAI-Caucasus, media, relevant government ministries and UN country offices.
"Dear Mrs Ripley, I am pleased to inform you that the Aarhus Clearinghouse for Environmental Democracy is featuring the Green Belt Movement and the WomenAid International EHNP on the home page this month. The (WomenAid) Environment & Health Network Platform (EHNP) works to promote public awareness of environmental issues, increase public participation in environmental decision-making and strengthen the capacity of civil society organisations to advocate for and implement such programmes."
Aarhus Convention Secretariat, UN Economic Commission of Europe, Geneva. 08.10.2004