SUSTAINABLE DEVELOPMENT GOALS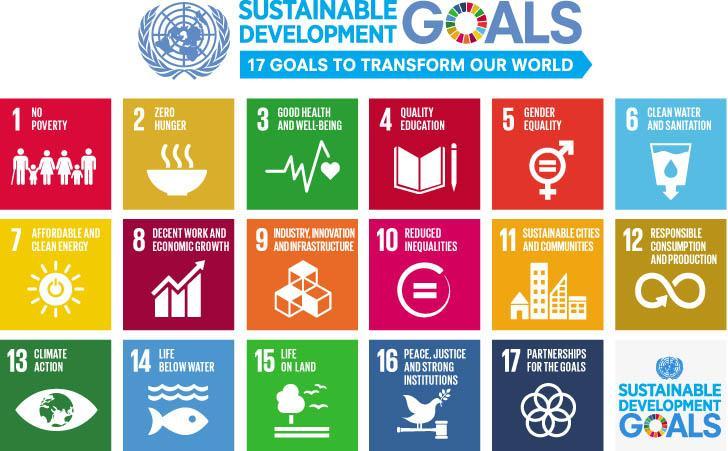 Voluntary National Reviews Database
As part of its follow-up and review mechanisms, the 2030 Agenda for Sustainable Development encourages member states to "conduct regular and inclusive reviews of progress at the national and sub-national levels, which are country-led and country-driven" (paragraph 79).
The voluntary national reviews (VNRs) aim to facilitate the sharing of experiences, including successes, challenges and lessons learned, with a view to accelerating the implementation of the 2030 Agenda. The VNRs also seek to strengthen policies and institutions of governments and to mobilize multi-stakeholder support and partnerships for the implementation of the Sustainable Development Goals.
This online review platform is dedicated to compiling information from countries participating in the voluntary national reviews of the High-level Political Forum on Sustainable Development.
JUST RELEASED: The World Water Development Report 2018
The 2018 edition of the World Water Development Report (WWDR 2018) seeks to inform policy and decision-makers, inside and outside the water community, about the potential of nature-based solutions (NBS) to address contemporary water management challenges across all sectors, and particularly regarding water for agriculture, sustainable cities, disaster risk reduction and improving water quality. More on the WWDR 2018

The world lost more than one football pitch of forest every second in 2017
Global deforestation is on an upward trend, jeopardising efforts to tackle climate change and the massive decline in wildlife. The scale of tree destruction, much of it done illegally, poses a grave threat to tackling both climate change and the massive global decline in wildlife. The loss in 2017 recorded by Global Forest Watch was 29.4m hectares, the second highest recorded since the monitoring began in 2001. According to new data from a global satellite survey, the world lost more than one football pitch of forest every second in 2017, adding up to an area equivalent to the whole of Italy over the year.

GLOBAL FOREST WATCH (GFW) is an online platform that provides data and tools for monitoring forests. By harnessing cutting-edge technology, GFW allows anyone to access near real-time information about where and how forests are changing around the world. https://www.globalforestwatch.org/
WHO USES GLOBAL FOREST WATCH?
Thousands of people around the world use GFW every day to monitor and manage forests, stop illegal deforestation and fires, call out unsustainable activities, defend their land and resources, sustainably source commodities, and conduct research at the forefront of conservation.
Since launching in 2014, over 1.5 million people have visited Global Forest Watch from every single country in the world. GFW is supported by a diverse range of partners that contribute data, technical capabilities, funding, and expertise. The partnership is convened by the World Resources Institute. Visit the GFW About page for a full list of partners.
HOW DOES GFW CREATE CHANGE?
Transparency
It's hard to manage what you can't measure. Global Forest Watch makes the best available data about forests available online for free, creating unprecedented transparency about what is happening in forests worldwide. Better information supports smarter decisions about how to manage and protect forests for current and future generations, and greater transparency helps the public hold governments and companies accountable for how their decisions impact forests. GFW data is accessed daily by governments, companies, civil society organizations, journalists, and everyday people who care about their local forests.
Engagement
GFW engages our users to help them apply our data and technology to improve forest management around the world. For example, we have supported governments to use our open source platform to create customized online maps that support national policy planning and implementation. GFW's private sector team works with the world's biggest food producers to help them use GFW tools to identify and eliminate deforestation in their supply chains. The GFW Small Grants Fund provides civil society organizations with technical and financial support to help them apply GFW data in their research, advocacy, and fieldwork.
Community
Example: "At Mars, deforestation poses a risk to our business – we don't want our supply chains to be associated with serious environmental issues. We used the PALM risk tool on GFW Commodities to evaluate our palm oil suppliers and help us make decisions about where to source from. With GFW, we were able to turn concerns about deforestation into an actionable method for engaging our suppliers."
For more- www.thegef.org/about-us
WOMENAID ENVIRONMENTAL ACTION INCLUDES
WomenAid International (WAI) has a long history of environmental action and awareness campaigning - its 'Mothers of the Earth' environmental awareness campaign promoting the environmental work of women led to WomenAid International/Green Belt being awarded recognition in the 1987 UNEP Global 500 Awards. http://www.global500.org/index.php/thelaureates/online-directory/item/715-greenbelt-movement-womenaid-international
"It is so important to have groups like yours helping raise awareness of the need for integration of trees in the environment and of women's current and potential role in resource management."
C.H. Murray, Assistant Director-General, Forestry Department, UN Food & Agricultural Organization
WAI sponsored the environmental activities in the Caucasus of its regional partner organisation, WomenAid International Caucasus - WAI-C.
2000-2005: Caucasus Zone Green Campaign and promotion of the UN Environmental Programme (UNEP)
To introduce greater environmental awareness, engage civil society and 'seed' voluntary community action in Georgia, Armenia and Azerbaijan, in 2001 WAI-C created the highly successful, 5-year 'Caucasus Zone Green' - an annual month-long multimedia campaign held in June. By establishing an inter-regional Environment and Health Network Platform of government departments, UN agencies, INGOs and non-governmental organisations, together with multimedia partners, over 450 engaged parties promoted environmental issues and organised hundreds of media supported events at all levels, regional, national and inter-regional. In 2004 this high profile promotional and educational initiative was noted and promoted by the Aarhus Convention.
Partners: WAI, UNEP, WAI-Caucasus, media, relevant government ministries and UN country offices.
"Dear Mrs Ripley, I am pleased to inform you that the Aarhus Clearinghouse for Environmental Democracy is featuring the Green Belt Movement and the WomenAid International EHNP on the home page this month. The (WomenAid) Environment & Health Network Platform (EHNP) works to promote public awareness of environmental issues, increase public participation in environmental decision-making and strengthen the capacity of civil society organisations to advocate for and implement such programmes."
Aarhus Convention Secretariat, UN Economic Commission of Europe, Geneva. 08.10.2004