THE NATIONAL ENVIRONMENTAL HEALTH
ACTION PLAN (NEHAP) FORUM
In 2001 the NEHAP Forum gathered some 120 representaives of Georgian NGOs, environmental professionals and government representatives to introduce the international development of National Health & Environment Action Plan (NEHAP) strategies.
The members of the Task Group for the drawing up of the Georgian draft NEHAP presented the Group's approach. Subsequently the presentation of the Georgian Draft NATIONAL ENVIRONMENT & HEALTH ACTION PLAN (NEHAP) at a national conference was sponsored and organized by WomenAid International-Caucasus.
A series of public consultations on specific environmental issue areas were also organized to assist feedback to the National Environmental Health Action Plan task group prior to submission of the NEHAP to the Georgian parliament for approval.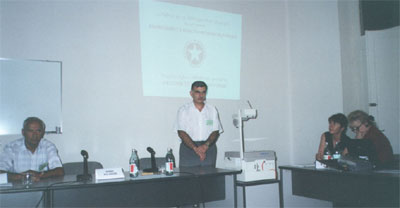 NEHAP FORUM funded by WomenAid International
On 24 March 2003 the President of Georgia signed Decree N326 approving the NEHAP for Georgia.
Currently the NEHAP for Georgia is in the process of being published in both Georgian and English languages. The NEHAP for Georgia will be distributed among local authorities of Georgia and will become one of the basic documents for preliminary planning, actions and daily work of all related governmental structures determining environmental health policy. Misha Kurkhuli – head of the Georgian NEHAP working group states: ''The NEHAP should be a manual for Georgian policy makers, environmental health professionals and other specialists".
Dr Kurkhuli thanked WomenAid International for its support and for organizing the NEHAP Forum and its presentation and consultations that ensured wide public awareness about the issue.
WomenAid International is sponsoring the online publication of the NEHAP for Georgia.