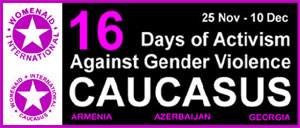 During 2000 WAI-C also introduced two global campaigns to Georgia, the 16 Days of Activism Against Gender Violence and White Ribbon Campaign. WAI-C established in Georgia the first national coordination committee of "16 Days" in the world. A broad range of activities and events were organized by the NGO members of this committee. The outstanding success of the first Georgian 16 Days of Activism Against Gender Violence was the elaboration and signing by over 70 representatives from Georgian government, UN agencies, international and local non-governmental organizations of a Joint Declaration Against Gender Violence. The UN legal department in New York granted approval for UN agencies to sign the Declaration.
Caucasus 16 Days of Activism Against Gender Violence and Promotion of White Ribbon Campaign. To support the 'broadening and deepening' of regional civil society activities WomenAid International-Caucasus established Caucasus 16 Days National Coordination Committees in Azerbaijan and Armenia as well as in Georgia, thus substantially developing regional collaboration and cooperation.
Over 500 organizations in the Caucasus region participated in the 2001 multi-media campaign "Caucasus 16 Days of Activism Against Gender Violence". Members of the Caucasus 16 Days Coordination Committees, organized over 200 events and meetings as well as securing press articles and media programs within the three countries of the South Caucasus. In Georgia, 116 participating NGOs organized over 90 events throughout the country, including security sensitive places such as Svaneti and Pankisi.
The outstanding success in 2001 was the appointment of famous Georgian men as 'White Ribbon Ambassadors' acting as spokesmen on ending violence against women. The campaign slogan was 'Only by working together can men and women end violence against women'.
A regional Caucasus 16 Days strategic planning seminar was held at the end of April 2002. Some 50 NGO and Government representatives from Azerbaijan, Armenia and Georgia met for three days in Tbilisi to exchange experience and agree coordination of Caucasus 16 Days 2002. The delegates voted for the establishment of an informal 'Caucasus Gender Institute' to further facilitate collaboration and cooperation on research and joint project development.
Funded by Canada Government, OSI, and WomenAid International
For more information please contact:
WomenAid International-Caucasus
17 Khvichia St. Tbilisi 380060 Georgia Tel/Fax: (995 32) 37 92 70
Email#1: waigeo@access.sanet.ge
Email#2: caucasus16days@womenaid.org
Caucasus 16 Days 2001 website can be visited at www.womenaid.org/16days