WomenAid Environment & Health Programme web site
Environment & Health Programme
The Environment & Health Network Platform, (EHNP) was established to increase public participation in environmental decision-making, promote public awareness of environmental issues and encourage the public to contribute actively towards a better environment. The EHNP has gathered a broad coalition of key players and stakeholders who work together to develop strategies that increase public awareness of environmental issues and health linkages, thereby fostering more enlightened attitudes and encouraging the public to contribute actively towards a better environment. Platform members define effective response strategies to environmental threats and stimulate informed pressure for effective and early implementation of policies based on sustainable development. Members of the Environmental and Health Network Platform work together to:
Identify and focus on national problems, promoting the active cooperation of all stakeholders;

Gain the recognition by government that the signing and ratifying of international treaties accomplishes little without simultaneous substantive changes in national legal frameworks;

Encourage the media and press to promote national awareness of critical environment and health issues and ways to reduce risk;

Facilitate collaboration among all non-governmental organizations, institutions, professionals and government representatives and provide opportunities for the participation of all sectors of civil society, from individuals to institutions to join in environmental protection efforts;

Strengthen the capacity of civil society organisations to effectively advocate for and implement environmental protection and awareness programmes.
Effective policy-making pre-supposes the existence of decision-makers responsive to the views of a public well-informed about environment and development issues and their complex inter-relationships. By developing broad multi-sectoral discussion between government and local authorities officials, NGOs, scientists, community groups, trade unions, business leaders, and members of the general public, WomenAid is promoting a method of consensus-building, an important part of democratic decision-making processes. The aim is to engage a cross-section of Georgian society in debates on environmental risks and lobby national government and local authorities for action.
NEHAP FORUM
Last year the NEHAP Forum gathered some 120 representtaives of Georgian NGOs, environmental professionals and government representatives to introduce the international development of the National Health & Environment Action Plan (NEHAP) strategies. The members of the Task Group for the drawing up of the Georgian draft NEHAP presented the Groupís approach. Subsequently the presentation of the Georgian Draft NATIONAL ENVIRONMENT & HEALTH ACTION PLAN (NEHAP) at a national conference was sponsored and organized by WomenAid International-Caucasus.
A series of public consultations on specific environmental issue areas were also organized to assist feedback to the National Environmental Health Action Plan task group prior to submission of the NEHAP to the Georgian parliament for approval.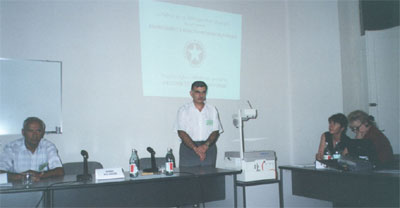 Funded by WomenAid International