Health Awareness Activities
During 2001 WomenAid-Caucasus implemented a UNHCR funded project,
Empowerment of IDP women through awareness raising seminars in women's rights and health issues.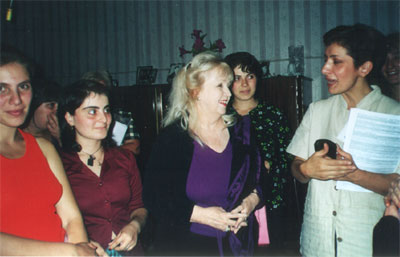 WomenAid International-Caucasus implemented a yearlong UNHCR supported project (approximately $52,000) that aims to empower women drawn from the internally displaced persons (IDP) community. On the request of UNHCR following gender-sensitive evaluation of micro-credit projects targeted at IDP women in 2000, WomenAid was adding a gender empowerment component onto existing micro-finance projects supported by UNHCR. The project was targeted at selected groups of female borrowers- with the express aim to strengthen supportive networks amongst the women.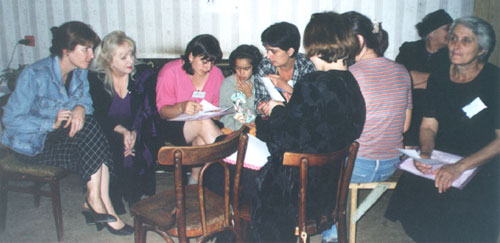 Pida Ripley with IDP Participants of Health Training Seminar
Awareness raising training seminars and discussion on the subjects of health and health behaviour (emphasis on sexual health, reproductive health and family planning), human rights (emphasis on women's rights and IDP rights) and gender violence (emphasis on domestic violence, trafficking and forced prostitution) were held with groups of females. By working with existing groups rather than isolated individuals, and groups that have to meet regularly- it is hoped that women will be able to find support amongst the group on issues of concern to improve their own levels of well-being.